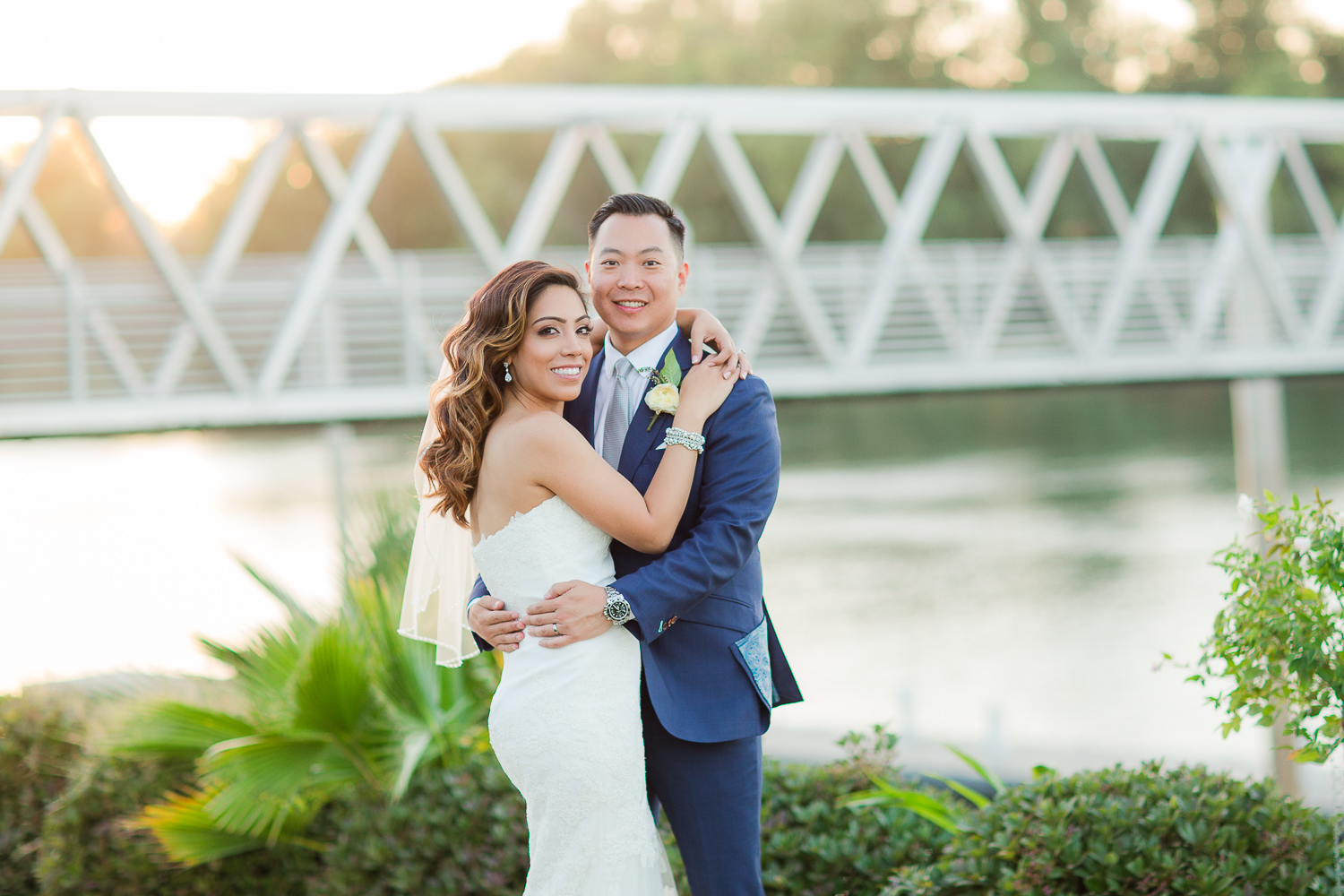 Samuel and Andrea's wedding at a stunning venue Scott's Seafood on the River in Sacramento is everything you love in one place.
Dress | Miosa Bride
Florals | Esmae Event Stylist
Venue | Scott's Seafood
DJ | Mr. DJ Event Services
Cake | Rick's Dessert Diner
Wedding Coordinator | Courtney, Scott's Seafood
Samuel and Andrea's  Story
Sam and Andrea first met in 2011. Andrea e-mailed Sam her resume as well as to a few other Chief of Staffs in the building. A few months had passed and his office was hiring and he remembered this young woman and set-up an interview with his boss and her at Pyramid Brewery. The Assemblyman chose to interview her and was subsequently hired to work in the capitol office. Even though they worked in the same office, Sam and Andrea did not interface face-to-face since since Sam worked in the Mission Viejo office and Andrea worked in the State Capitol. They then worked closer during the summer of Assemblyman Jeff Miller's campaign for State Senate. The election passed and they both were offered positions in new offices and became friends when Sam moved to work in Sacramento.
Sam and Andrea quickly found themselves in the same social circles that enjoyed going out and having fun till the wee hours of the night. One of their mutual friends always would say, "you guys have amazing chemistry" and they both would just laugh and brush if off. Andrea and Sam's friendship grew over time and they became close friends. It wasn't until Sam moved to Arizona to manage a congressional campaign that they started talking more and would try and catch-up. After Sam moved back to California, they would see each other at Republican Party and political events and their relationship started to shift. As time progressed they spoke more frequently and made an effort to talk more and spend more time together. For two years they had a long distance relationship while she lived and worked in Sacramento and he lived and worked in Orange County. They would see each other every other weekend in Orange County, Sacramento or take trips together on fun weekend trips to the Grand Canyon, Las Vegas, Portland and Cabo San Lucas. On August 19, 2016, Sam proposed to Andrea at the Rose Garden at the Sacramento State Capitol where they first met years prior.
HOW DID HE PROPOSE?
It was Friday afternoon and Andrea had a long week at work and all she wanted to do was go home. Her sister Angie and her two friends Lilia and Rachel asked her to go to happy hour and Andrea didn't want to go. Andrea finally agreed and walked out of the capitol building to go to Zocolos. As she approached the Capitol Rose Garden with her sister, Andrea was shocked to see Sam in a suit since Sam was scheduled to fly in later that evening. Andrea- shocked and confused still by the surprise- stood next to Sam as he then spoke about the first time they interacted and how he felt about her and proposed under the Capitol Rose Garden arch. It was perfect and beautiful.