Everything You Need to Know in Preparation for Your Engagement Session
How to prepare for Engagement Photography Session
Are you engaged? Planning your engagement photography session? This are my best tips for you.
Your Questions Answered
Please be on time and don't forget your essential items, like 🙂 I typically like to shoot in the late afternoon for the best light, so the sun dictates how long I can photograph you. An average shoot lasts 1-2 hours. If you show up 30 minutes late, the session, unfortunately, cannot be extended, unless our plan with you to take some photos at night time :). I just want to be honest. I want the BEST photography experience for you. And being on time achieves exactly this!
I want every engagement shoot to really capture who "YOU" guys are. Feel free to bring anything along that really reflects your personalities or are meaningful to you.
What should we wear?
Here are a few tips I like to share with you. when you're thinking about what to wear for your e-session:
For women, avoid shirts that are baggy or super-loose, like in this awesome youtube video by Reachel Bagley. Sometimes the camera can exaggerate the looseness in the clothing, which can cause one to appear more round than they really are.
Feel free to bring an outfit change. (one casual look, one dressy look). It's always good to switch things up a bit and if we change locations, it will essentially be like you had two photoshoots.
Solid colored clothing items are great, and if you want to bring in a pattern, have only one person wearing the pattern.
Wear what you feel comfortable in. If you're not comfortable in what you're wearing, it often shows in the images.
If you wear heels, also bring flip-flops or other shoes that you can be more comfortable while walking in-between shots.
Try on everything a few days before the shoot. You'll want to make sure your clothes fit correctly and you don't have distractions from panty lines, bra straps, poor-fitting clothing, or wrinkles!
I am sure you guys got it all figured out in terms of what you want to wear but if you are on the fence or need any ideas or guidance you can check out this blog post, or click the link:
.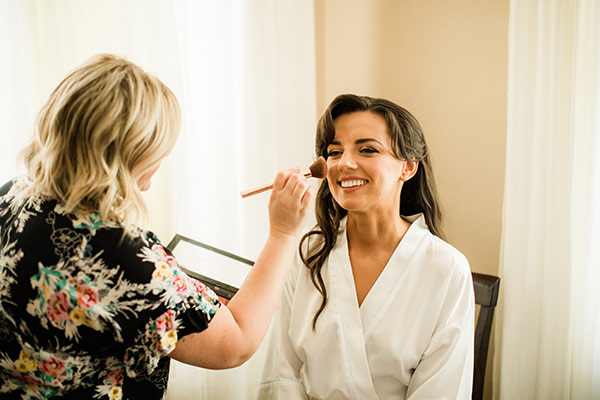 Should I get my makeup professionally done?
There are many benefits to getting your makeup done professionally:
Makeup looks different on-camera than in-person, and a professional makeup artist will know how much more makeup you'll need to show well on camera and make you look your best!
Your skin will look better in-camera (I highly recommend that you use a makeup artist who airbrushes on their makeup), and you'll be amazed how awesome your skin looks!
It's a great trial run for your wedding day! You can find out what works and what doesn't, and make adjustments for your wedding day.
Most of the girls choose to have their practice run regarding hair and makeup for the engagement shoot. This helps them feel a little more 'done-up' for the shoot and boosts their confidence. I'm not saying this is something you have to do at all, however, what I can say is that in my experience shooting engagement sessions, girls want to feel pretty and confident…and sometimes spending a little extra time getting ready achieves just that.
This is completely up to you! If there are certain items that reflect something about you guys or your story that you would like to incorporate into photos, bring them (hats, fun shoes, a pet, sports paraphernalia, a car, bicycles, etc.)! If you have any fun signs or other props for a great "save the date" shot for you to use, bring those as well. It's completely up to you.
If you are planning to wear shoes that are high on style, but maybe low on comfort… be sure and pack an extra pair for walking to the car. If we are shooting at the beach, also take that into consideration when planning your footwear. Depending on the location you choose for your session, there may not be a wide selection of places in which to change your outfit. Keep that in mind–what you'll wear, and what you will wear first.
As always
if you have any other questions just let me know, otherwise, I will see you guys